Product Name:
Halloween Rainbow Marshmello Mask
Category:
ACCESSORIES > Halloween Masks
Gross Weight/Package:
280
Description:
You can put on this Marshmello Mask for thrilling Halloween party.
Style:
Rainbow, Halloween
Occasion:
Halloween Party
Season:
Autumn
Size:
ONE SIZE
Color:
Multicolour
Fabric:
Latex
Package:
A Mask
Description

Tip: This is a flash style, not one that stays on all the time.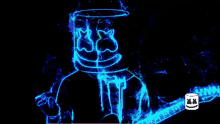 [Color] All the products are real shots. Because of the product batches and the factors of lighting and camera, it is normal that the color may be slightly different from the real thing. Please understand!
[Specification] Usually the whole head and neck. If the eye opening is too small, you can trim it by yourself with scissors. You can also cut a part of the back of the neck from the middle, which is convenient to wear and does not affect the use!
[Product size] One size (one size;

Unisex) /

Height: 21cm

[Tips] The position of sticky lights may be different sometimes, and it is sent randomly, please understand.

Button battery model CR2032 3V
🤩Feedback
⭐⭐⭐⭐⭐
 Good quality.
This is a satin fabric hood with colorful LEDs. My son LOVED it. Its decent quality for kids use. Hes happy, so that's all that matters.
⭐⭐⭐⭐⭐
 Awesome!
Mask is one whole piece unlike some that need to be taped together.