Product Name:
Halloween LED Light Up Purge Mask Pink
Category:
ACCESSORIES > Halloween Masks
Gross Weight/Package:
140
Description:
You can put on this LED Purge Mask, the terrifying light effects suitable for thrilling Halloween party.
Style:
Light Up, LED, Halloween
Occasion:
Halloween Party
Season:
Autumn
Size:
ONE SIZE
Color:
Pink
Fabric:
PVC
Package:
One Piece
Description
ONE SIZE: 
Length: 8.66inch; Width: 6.7inch
LED Purge Masks were inspired by the Streetwear Movement and The Purge Election Year movie, we are now bringing this Purge Masks back to the trendy wave.
This will terrify anyone with its light effect and create a perfect atmosphere for celebrating Halloween for sure. This Purge LED mask is sure to create a mysterious & festive atmosphere at any occasion, just like in the movie.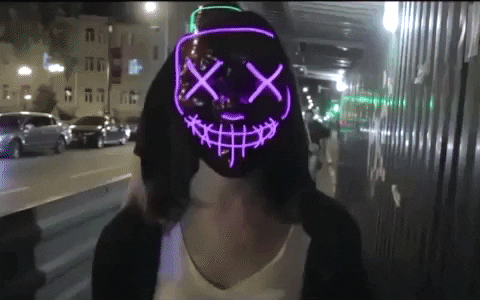 #1. We only use safe LEDs that do not emit harmful rays to the eyes. The problem with a lot of LED masks is that the LED can be harmful to the eye if not manufactured right. We use a smart protective layer film in our LED that maintains the brightness of the mask but doesn't emit harmful rays.

#2. We have the most durable mask. PVC is universally known to be one of the most easily breakable plastics on the market. That's why for our mask we use a strong durable matte acrylic plastic material that maintains the masks shininess while being resistant to breaking.
😈✨

Pictures Show -Cool As Me!
😍Customer Feedback!
Color: Pink , Size: One Size
⭐⭐⭐⭐⭐
Very happy with everything about the mask, the little buzzing isn't noticeable once you tuck the wire in your shirt. Five Star!
Color: Pink , Size: One Size
⭐⭐⭐⭐⭐
It just came to me on the estimated date. I. love it, it's super cool, it doesn't make any noise. We'll have fun on Halloween
. They come very well envaladas.
Color: Pink , Size: One Size
⭐⭐⭐⭐⭐
item came extremely early and is exactly how it is described also was packed very well.
Color: Pink , Size: One Size
⭐⭐⭐⭐⭐
Nice! Well packaged! Thank you thanks!
Color: Pink , Size: One Size
⭐⭐⭐⭐⭐
This color shows up so well!!! Thank You!!!
Color: Pink , Size: One Size
⭐⭐⭐⭐⭐
Beautiful!!! I ordered 2 colors and 2 beautiful, not a problem, comfortable and fit the head, thanks to the seller they arrived very quickly
Color: Pink , Size: One Size
⭐⭐⭐⭐⭐
Excellent mask, everything works well. Fast shipping. 2 weeks.
Color: Pink , Size: One Size
⭐⭐⭐⭐⭐
The goods came very quickly, for 12 days! Purchase is satisfied, packed on conscience, thanks to the seller!!!